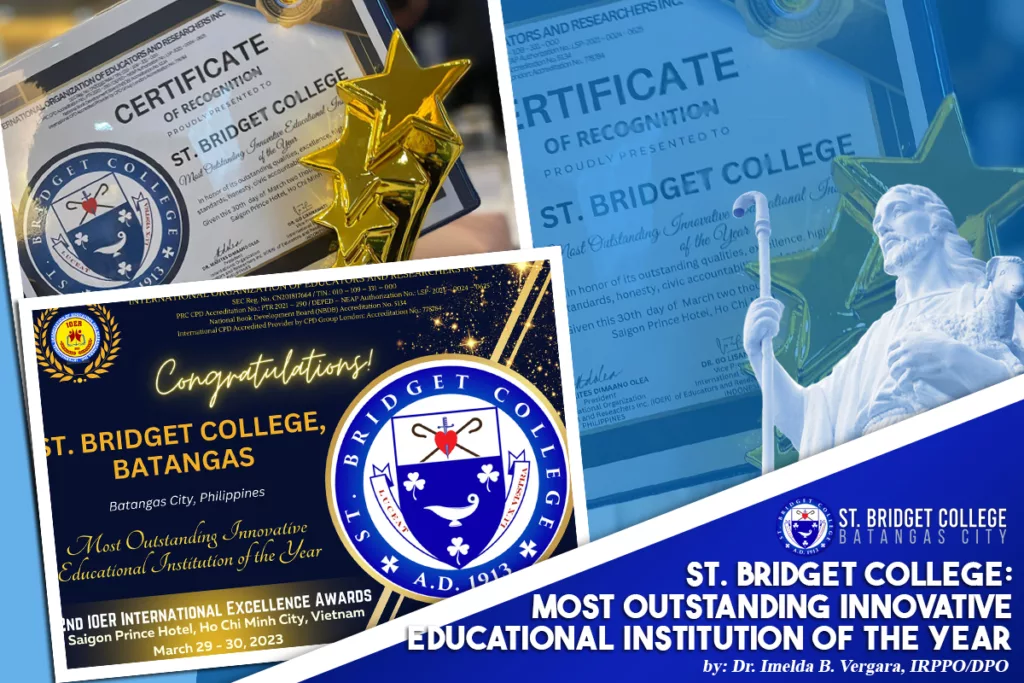 St. Bridget College Batangas marked another milestone in its rich history as it garnered the title "Most Outstanding Innovative Educational Institution of the Year" in the 2nd IOER International Excellence Awards held at Saigon Prince Hotel, Ho Chi Minh City, Vietnam, March 29-30, 2023.
The school received the international award after submitting and presenting proofs of its outstanding performance, social relevance, impact of achievements as well as excellence and distinction.
Among the documents presented were the school's certificate of recognition for its 100 years of dedicated service to the realization of the evangelizing mission of Catholic education and its commendation for valued contribution to the Batangas City Community as the oldest Catholic Educational Institution since February 1, 1913.
The school's partnership with various agencies, organizations and institutions such as Lingap Pangarap ng mga Paslit Center, Inc., Bahay Pag-asa, Sagip-Buhay Tahanan Foundation, Inc., and Buklod Unlad ng Batangas, Inc. was also highlighted in the evidence submitted.
Aside from proofs of achievements and recognition in the academics and extra-curricular activities, it also included documents on participation in socio-civic activities as well as membership in professional organizations.
In the awarding ceremonies, the school received trophy, medal, and certificate of recognition.
The school is also featured in the magazine containing the profile of all the international excellence awardees.
Four representatives from St. Bridget College attended the event.
These include Dr. Amor L. Borbon, college dean; Dr. Imelda B. Vergara, Institutional Research Planning, and Publications officer; Ms. Cenen I. Chavez, General Education program chairperson; and Mrs. Maria Grace D. Contreras, student affairs officer.
The IOER International Excellence Awards is organized by the International Organization of Educators and Researchers (IOER), an organization of eminent educationists, researchers, and professionals across the globe.
The event was held as a formal international recognition of outstanding accomplishment of companies, groups, organizations, institutions, and individuals around the world in specific areas pertinent to public service, business, academics, research, digital transformation, community engagement, etc., and to those who successfully addressed global challenges.
By: Dr. Imelda B. Vergara, IRPPO / DPO