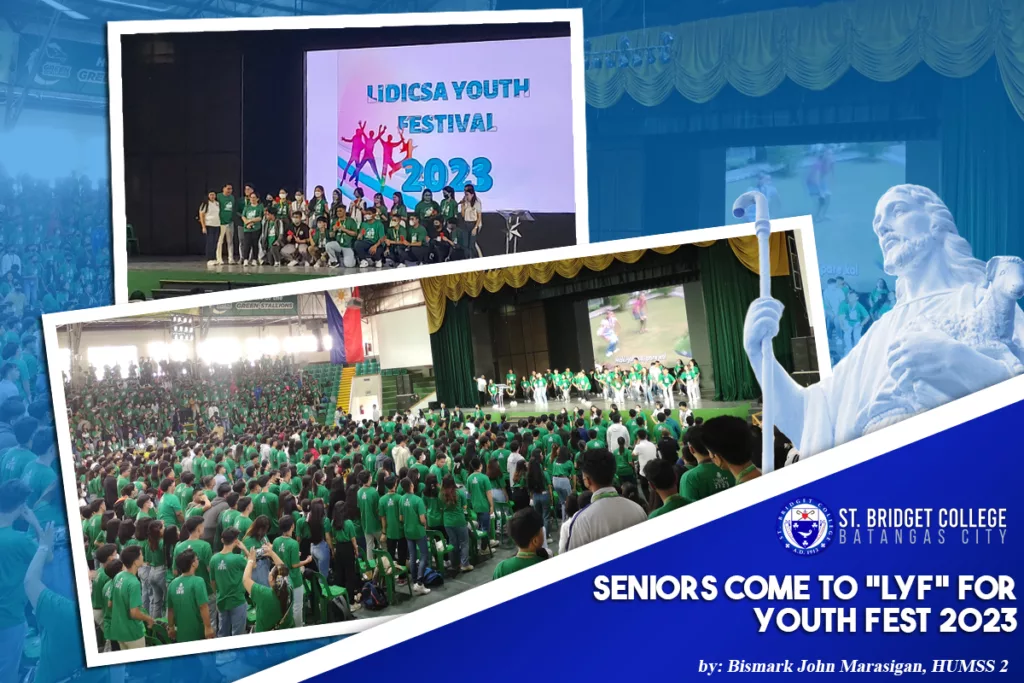 After more than two years of its absence due to pandemic, 198 students of the Senior High School level of St. Bridget College-Batangas participated in the LIDICSA Youth Fest (LYF) at the De La Salle Lipa Centrum, March 10.
 With its theme "One Family, One Mission: LIDICSA in Action", more than 2,000 students from different Catholic schools in the province of Batangas under the Lipa Archdiocesan Catholic Schools Association-LIDICSA, Inc. participated in this year's two batches of LYF.
The event started with a Eucharistic Celebration presided by Rev. Fr. Joseph M. Fortaleza, OSJ, the LIDICSA President.
After the mass, Dr. Randy Baja, the LIDICSA Vice President and the Chairman for LYF 2023, gave his opening remarks to formally welcome the participating schools.
Intermission numbers from St. Mary's Educational Institute (SMEI), Holy Family Academy (HFA) and Canossa Academy Lipa were delivered as it set the mood of the event and the students.
In his talk, Rev. Fr. Glenn Paul Gomez, SVD presented three topics regarding Christian spirituality and evangelization.
Before the event ended, yells of the participating schools were heard in which each one showed  prowess and school's identity.
"After the onset of the pandemic, Lidicsa Youth Festival is one of the face-to-face activities that I was looking forward to as a grade 12 student. The moment we arrive at La Salle Lipa's centrum, I can immediately feel the fervid welcome from everyone in the venue. From the Holy Eucharist, talk given by the resource speaker, dances, and socialization, it was a worthwhile and enlivening morning. Aside from spending time and bonding with our fellow Bridgetines, it was interesting to meet and encounter other grade 12 students from different schools. All in all, it was a socially and spiritually gratifying experience! ", Avi Breindelle Ibon, HUMSS 2 – Sr. Mary Elizabeth O'Dowd stated.