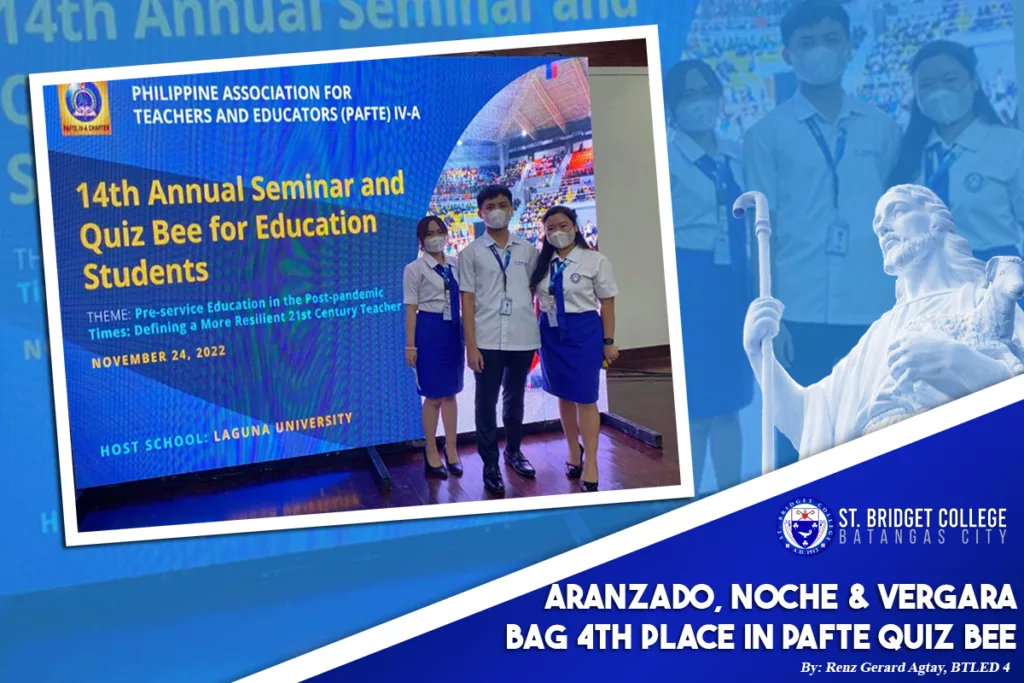 Three aspiring Bridgetine educators, Jhoanna Marie B. Vergara from BSED 4, Frances Margarette D. Aranzado and Raymond Joseph Noche, both from BEED 4, ranked fourth out of 48 educational institutions around the region in the 14th Annual Seminar and Quiz Bee for Education Students facilitated by the Philippine Association for Teachers and Educators (PAFTE) IV-A, held at Cultural Center of Laguna, Santa Cruz, Laguna, November 24, 2022.
With the theme, "Pre-service Education in the Post-pandemic Times: Defining a More Resilient 21st Century Teacher", the event was hosted by Laguna University.
The PNU-South Luzon garnered the highest points, twenty-six out of thirty, bagging them the top spot while UPSHL- Binan bagged the second place with twenty-four points.
Garnering twenty-three points, a clincher round was conducted between MSEUF- Catanauan and St. Bridget College.
By the end of the round, MSEUF- Catanauan was hailed third while St. Bridget College clinched the fourth spot.
The quiz bee was facilitated by the PAFTE IV-A Committee members centering on different Professional Education subjects namely The Child and Adolescent Learner, Facilitating Learning in Learner-Center Teaching, Foundations of Inclusive Education, The Teaching Profession, Educational Technology, Building and Enhancing Literacies Across the Curriculum, and Assessment of Learning.
Aside from the quiz bee, the event also featured a seminar.
Participants and guests were welcomed by Dr. Bethel Z. Hernandez, PAFTE IV-A Chairperson followed by an opening remarks by Dr. Rosemarie D. Sabado, OIC-Vice President for Academic Affair of Laguna University.
Dr. Sabado expressed how grateful she was for the conduct of the activity since 2019 is the last time they were able to carry out an event like this.
In a talk given by Dr. Ronald Gonzales, OIC-President of City College of Calamba, he highlighted that pre-service teachers should have their own teaching philosophies that would serve as their guide in teaching.
He further discussed that the values emulated by teachers would eventually mobilize their students towards having a morally guided principle.
On the other hand, Dr. Milagros Borabo, Executive Director of PAFTE National accentuated the importance of pre-service teachers on the post-pandemic teaching and learning process.
According to her, "Pre-service teachers must have the capacity to recover quickly from difficulties, toughness, adversaries and challenges demands."
Ms. Carina Macalos, Assistant Professor Administrator, concluded the program by stressing the importance of teachers as the most important human resources of every unit of the community as they triumphantly show that they are winning the battle against the pandemic.
Aranzado, Noche, and Vergara were coached by Dr. Imelda B. Vergara, Institutional Research, Planning and Publications Officer, along with Dr. Amor L. Borbon, College Dean, Dr. Rossana Bagon, Education Program Chairperson, Ms. Cenen I. Chavez, General Education Program Chairperson, and Mrs. Maria Grace D. Andal, Education Faculty member.
By: Renz Gerard Agtay, BTLED 4