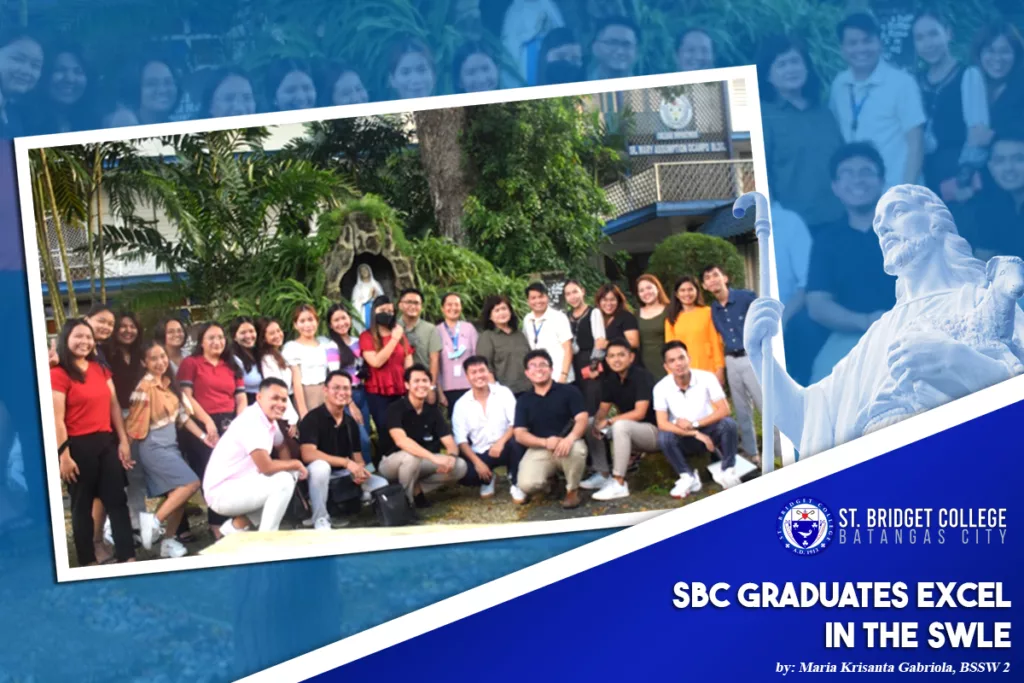 Bridgetine Social Workers emitted radiant light as they excelled in the Social Work Licensure Examination held on September 19–21, 2022.
Among all the Bridgetine exam takers, St. Bridget College made it with a high passing percentage as the school garnered 84.38% with its 27 newly Registered Social Workers.
Based on the press release, The Professional Regulation Commission (PRC) announced that 2,955 out of 4,723 (62.75%) passed the examination nationwide.
To congratulate the board takers as part of their tradition, the Sangguniang Gabay ng Panlipunang Paglilingkod (SGPP) held a Thanksgiving Celebration on the 5th day of October 2022.
The LESW passers shared their journey as Bridgetine students to becoming an RSW by emphasizing the importance of prayers and giving advice to undergraduate Social Work students.
Expressing their appreciation, their former Social Work teachers, Ms. Monica Abaya, Mrs. Rosalie Albestor, and Mr. Sherwin Bagon, delivered a message to the board passers, encouraging them to keep on the good work and continue to inspire and bless others.
Meanwhile, the SGPP moderator, Mr. Bagon, addressed a message to the students who did not pass the board exam to not lose hope for it is not yet the end of their journey.
Grateful for the milestone, the SBC College Department extended its acknowledgement to the new Bridgetine Registered Social Workers.
Indeed, the institution is deeply blessed and honored to shape students who will uphold the mission and vision of St. Bridget College that will continuously leave a legacy to the next generation of students.
by: Maria Krisanta Gabriola, BSSW 2