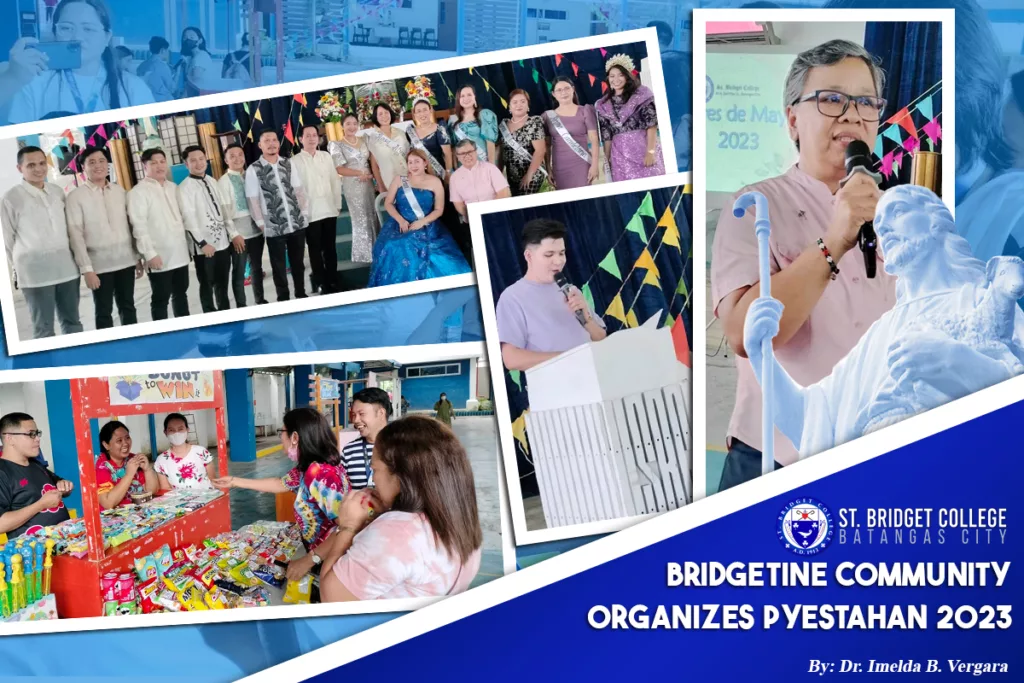 "Parine. Sinsay na. Sa SBC ay Mamiyesta."
This was the theme of the Flores de Mayo Culminating Activity held at St. Bridget College, Batangas City, May 31, 2023.
Dubbed as 'Pyestahan sa SBC', the festivity featured colorful, fun-filled and engaging events primarily intended to imbibe the spirit of unity in the SBC community.
These activities included exciting fiesta games such as pukpok-palayok, color game, and bunutan.
Attendees also found excitement and joy from participating in bingo social.
The highlights of the activity were the Holy Mass, Santacruzan, and Flores de Mayo. 
In the celebration of the Holy Eucharist, Rev. Fr. Sancho Noel Cabatay, Lipa Archdiocesan Social Action Commission (LASAC) Assistant Director, served as mass presider.
In his homily, he emphasized the value of sharing and bringing the presence of Jesus to the poor through 'Alay Kapwa'.
He also pointed out that this sharing may be in any form such as time, talent, and treasure.
Meanwhile, selected faculty and staff captured the audience in awe as they joined the Santacruzan.
Dressed in their gowns and barong, they led the community in the religious procession in honor of the Blessed Virgin Mary.
They also offered flowers to Mother Mary during the 'Alayan'.
Aside from these activities, all the attendees enjoyed the food prepared for the event.
The Senior High School and College departments welcomed the participants with their energizing breakfast meal while the Integrated Basic Education (IBED) department prepared sumptuous lunch for everyone.
Moreover, the RGS convent was also opened for faculty and staff as the sisters shared delicious merienda.
The Institutional Programs and Services (IPS) group also refreshed everyone with their afternoon snacks.
In the message that Sr. Ma. Añanita Borbon, College President, delivered, she expressed her joy and gratitude to everyone for realizing the objectives of the event. Aside from strengthening spirituality, it has also become a venue for establishing bond and unity among the members of the SBC community, especially the sisters, faculty, and staff.
The said event was organized by the Institutional Faculty and Staff Association (IFSA) officers headed by Mr. Jonathan Perez, IFSA President, in partnership with the Celebrations and Liturgy Committee.
Flores de Mayo and Pyestahan will be conducted annually.
The IBED department will be the sponsor in the upcoming year.