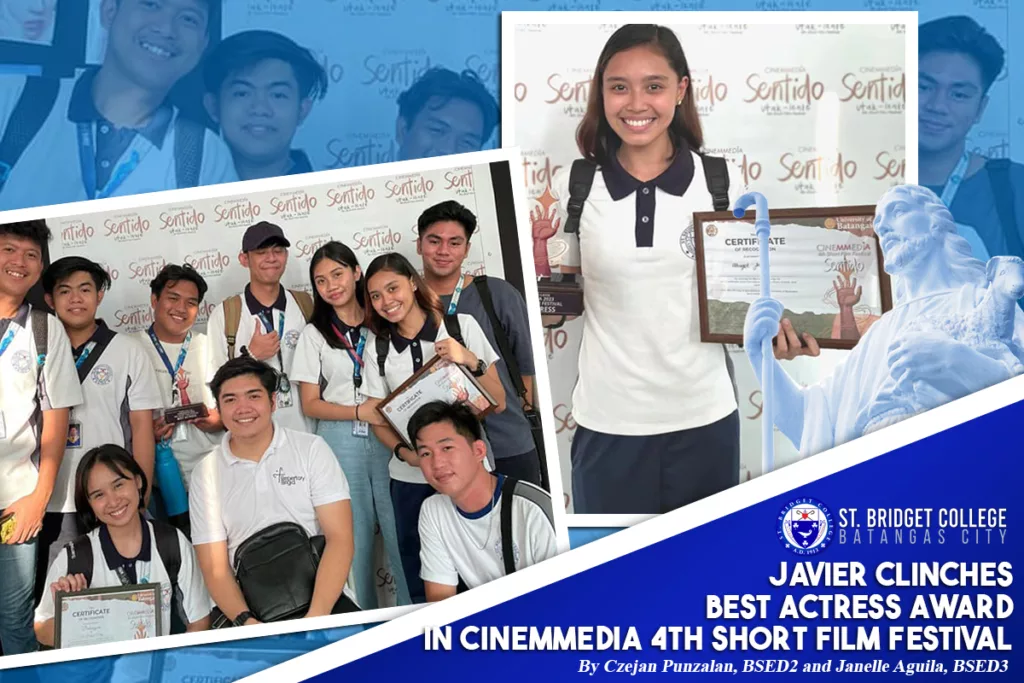 With 17 school contingents in the competition, St. Bridget College's Ms. Ahngel Javier from BEED3 clinched the prestigious Best Actress Award as she delivered an exemplary performance in SBC College Department's entry "Debosyon" as part of the CineMMediA 4th Short Film Festival held at Scuola Maria Auditorium, April 17, 2023.
With this year's theme "Sentido: Utak-Lente", Javier was given a platform to be able to shine for creating and expressing her passion for acting and filmmaking. As she said, "Showing my craft through film and be witnessed by many is enough, bagging an award is a bonus."
She also stated that she was grateful to everyone who made this achievement possible.
Along with her, other Bridgetines also shone as Ms. Lizalyn Libot, BSED3, and Mr. Antonio Miguel De Chavez, BEED3, were nominated for Best Director and Best Actor, respectively. Their film was also short-listed for Best Musical Scoring.
Guided by SBC PAO Director Mr. Don Christian "Jim" Ramos, the film "Debosyon" explores the story of devoted Christians who were imprisoned by Japanese soldiers who began oppressing Catholics. Due to young Lorenzo's religious convictions, he was tortured but remained committed to his beliefs despite his losses and torments.
CineMMediA is a well-known short film festival in Batangas, spearheaded by Future Multimedia Artist Society of University of Batangas.
By Czejan Punzalan, BSED2 and Janelle Aguila, BSED3