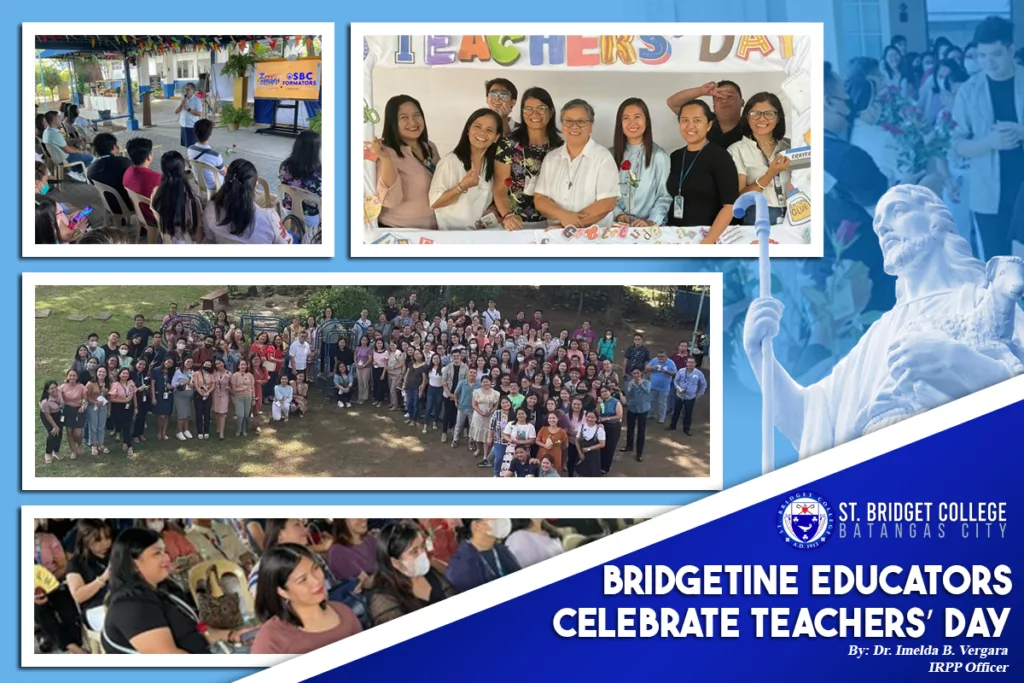 To give tribute and express appreciation for the invaluable role that teachers play in the academic community and education ministry of St. Bridget College, Bridgetine educators gathered in the Teachers' Day Celebration at SBC Chapel and College Multi-purpose Hall, SBC, Batangas City, October 9, 2023.
The event featured Eucharistic Celebration with Rev. Fr. Carlos Coloso, as mass presider.
In his homily, Fr. Carlos underscored that love makes the difference in the teaching profession.
He also encouraged the faculty to serve not just as teachers for the students but also as educators for everyone.
After the mass, each of the faculty members was given a red rose as a symbol of gratitude and appreciation for their share in the noble profession of teaching.
In the program that followed at the College Multi-purpose Hall, the teachers enjoyed the music that their fellow faculty rendered as well as the food treats prepared for the event.
In the message that the college president, Sr. Ma. Añanita Borbon, RGS PhD, delivered, she highlighted the significant contribution of teachers in the formation of every Bridgetine student.
She also stressed that teachers have to serve as models for the students and that they should give the best that they can in the teaching profession.
Moreover, she expressed her wish for everyone to enjoy the event as she shared monetary gift to the attendees.
All licensed professional teachers and practicing teachers attended the said event.
By: Dr. Imelda B. Vergara, IRPP Officer