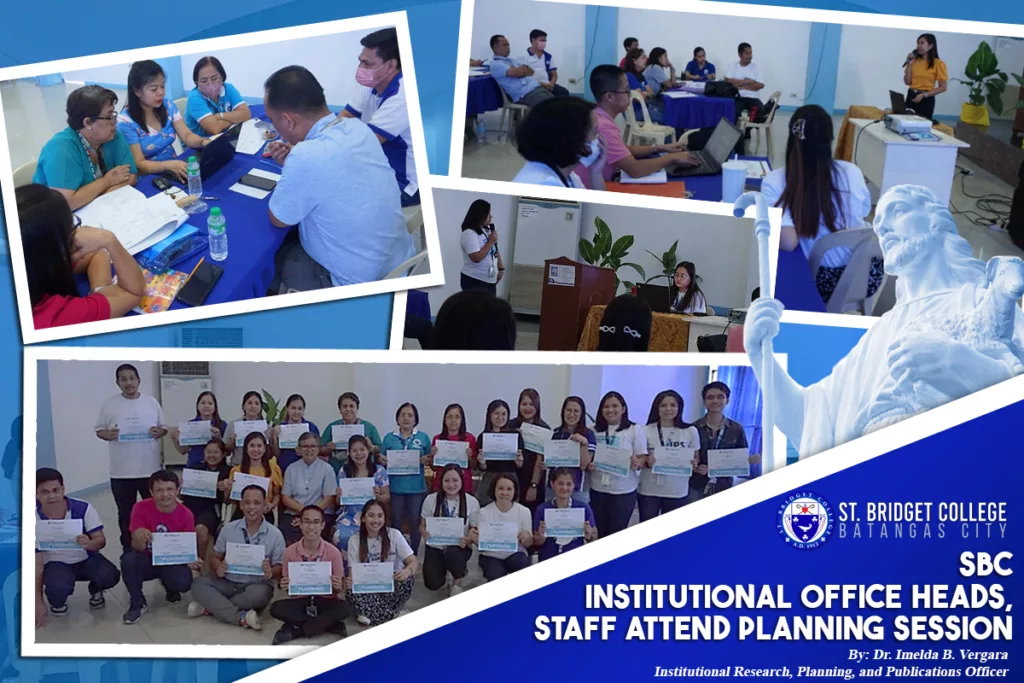 "Every peso counts. Records mo, siguradong protektado. Healthy body, healthy soul. Sa pagtanggap at pagtulong, siguradong susulong."
These were some of the taglines that St. Bridget College institutional offices created during their Planning Session held at the Morrisey Hall, St. Bridget College, Batangas City on August 7, 2023.
Dr. Imelda B. Vergara, Institutional Research, Planning, and Publications Officer facilitated the said session while twenty-three (23) heads and staff of the Registrar's Office, Library, Clinic, Finance Office, Eduhub, Performing Arts Office, and Admission, Promotion and Aid Office were the participants.
The activity was intended to provide a venue to design the action plans of offices which can serve as guide in providing efficient service to the school clients and the entire Bridgetine community as well as in enhancing work productivity in the institution.
To become fully aware of the importance of planning, Dr. Vergara discussed how it can provide direction and help in the attainment of goals using an acrostic of the term "PRODUCTIVE".
Moreover, she elaborated the elements to consider in planning, its components, the steps in creating an action plan, formulation of action plan, and example of goals per office. She also provided a sample of action plan to the participants.
Delving into the highlight of the session, and to apply the information and skills gathered, the participants were grouped according to their offices for the breakout session. They collaboratively exchanged their ideas to create a well-designed action plan for the whole school year.
In the plenary that was conducted, the different offices presented the outputs to the entire group. They also shared the taglines that they created for their offices.
Sr. Ma. Añanita Borbon, RGS, college president, gave some feedback and suggestions to further enhance the contents of the action plans.
She also reiterated the significance of planning and encouraged everyone to be properly guided by the plan that they designed.
To wrap up the session, the participants signed on a collaborative agreement sheet indicating what they can contribute to their office. This signified their commitment to ensure successful implementation of their plans.
Recognizing the active participation and effort of the participants, Sr. Anya awarded each one with certificate of participation.
They also had photo opportunity with their colleagues in the office and all the participants.
By: Dr. Imelda B. Vergara
Institutional Research, Planning and Publications Officer