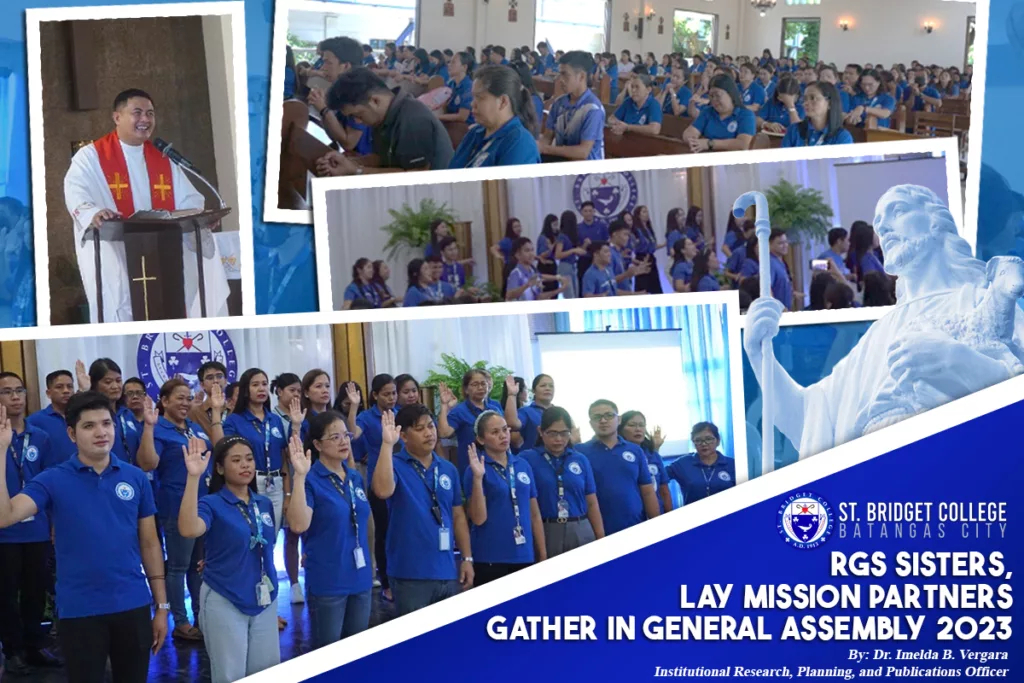 Signifying a fresh start with the spirit of joy and togetherness, all administrators, faculty and staff of St. Bridget College, together with the Religious of the Good Shepherd (RGS) sisters gathered in the General Assembly of Employees 2023 held on August 10, 2023 at St. Bridget College, Batangas City.
The event started with the celebration of the Holy Eucharist at the SBC Chapel. Rev. Fr. Eugene Hechanova, served as mass presider.
In his homily, he emphasized the significance of the presence of Holy Spirit and how it can bring inspiration and transformation in one's life.
Afterwards, to welcome the new members of the school community and invoke God's guidance to everyone as they engage in their field of work all throughout the school year, introduction of the new members of the institution and commissioning rites were featured in the program at the Morrisey Hall.
In her welcome message, Sr. Ma. Añanita Borbon, RGS, school president, reminded everyone to live up the words of St. Mary Euphrasia, "Do well all that you do" in carrying out one's mission.
She also pointed out that the direction for the institution is clear as guided by the Institutional Development Programs in 13 key areas in the school community as well as the SOP's and guidelines presented during the assembly of employees.
Moreover, she recognized the contribution of each lay mission partner in the process of attaining the vision, mission, and goals of the institution.
During the program, the new faculty and staff from the different departments were introduced. They added a joyful atmosphere in the venue as they entertained the attendees with their dance performance.
Eighteen (18) lay mission partners with new assignments as top level and middle level administrators for School Year 2023-2024 were also presented.
These included Mrs. Julieta Macalalad, Campus Services and External Relations Officer; Mr. Arman Jay Dizon, CPA, Finance Officer; Dr. Imelda Vergara, Institutional Research, Planning and Publications Officer and Education Program Chairperson; Mr. Ryan Gamboa, Institutional Technology Management Services Officer and IBED Computer Coordinator; Mrs. Grace Lorraine E. Pelingon, Human Resource Management and Development Officer and Institutional Head of Guidance and Counseling Office; Mrs. Josefina Montalbo, Institutional Registrar; Mrs. Julie Ann De Chavez, Institutional Librarian; Mr. Christian Jay Bahala, Head of Admission, Promotion and Aid Office; Ms. Khamyl Pamela Buenafe, Coordinator of Performing Arts Office; and Mr. Carlos Flores III, Focal Person – Safeguarding of Children and Vulnerable Adults.
Midlevel administrators with new assignments in their respective departments were Mrs. Eugenia Marites Quinio, General Education Program Chairperson (College); Mr. Isidro Pelingon, SHS Prefect of Discipline and Student Activity Coordinator; Mr. Fernan Cultura, Prefect of Discipline (Elementary Level); Mrs. Monina Gato, Prefect of Discipline (Junior High School Level); Mrs. Marites Briones, Araling Panlipunan Coordinator; Mrs. Laila Ramirez, Science Coordinator; Mrs. Jovita Lualhati, JHS Student Activity Coordinator; and Mrs. Agnes Casao, Elem Student Activity Coordinator.
Meanwhile, the newly elected Institutional Faculty and Staff Association Officers were Mrs. Melba Comendador, President; Carlos Flores III, Vice President; Maria Grace Andal, Secretary; Maria Isabel Orayan, Treasurer; Mrs. Fe Babao, College Representative; Ms. Jazel Paula Blanco, SHS Representative; Mr. Paul Vincent Ilagan, IBED Junior High School Representative; Mrs. Lea Flores, IBED Elementary Representative; Mr. Alexis Catapang, Institutional Programs and Services Representative;  Mr. Arnel Balmes, Maintenance Representative; and Mr. Jonathan Perez, Ex Officio.
In the commissioning rites led by Sr. Anya, she emphasized the invitation for the new leaders to go forth and follow the concrete examples of Jesus, the Good Shepherd.
She also led the pledge of commitment in which the lay mission partners expressed their promise to fulfill their duties and responsibilities to become instruments of God in the service of the church, country and school.
In the last part of the event, each of the lay mission partners was given confirmation of appointment indicating gratitude to them for responding to the call for mission. It also indicated the administration's hope for a successful school year as each one performs his/her duties with utmost diligence and accuracy.
By: Dr. Imelda B. Vergara
Institutional Research, Planning and Publications Officer