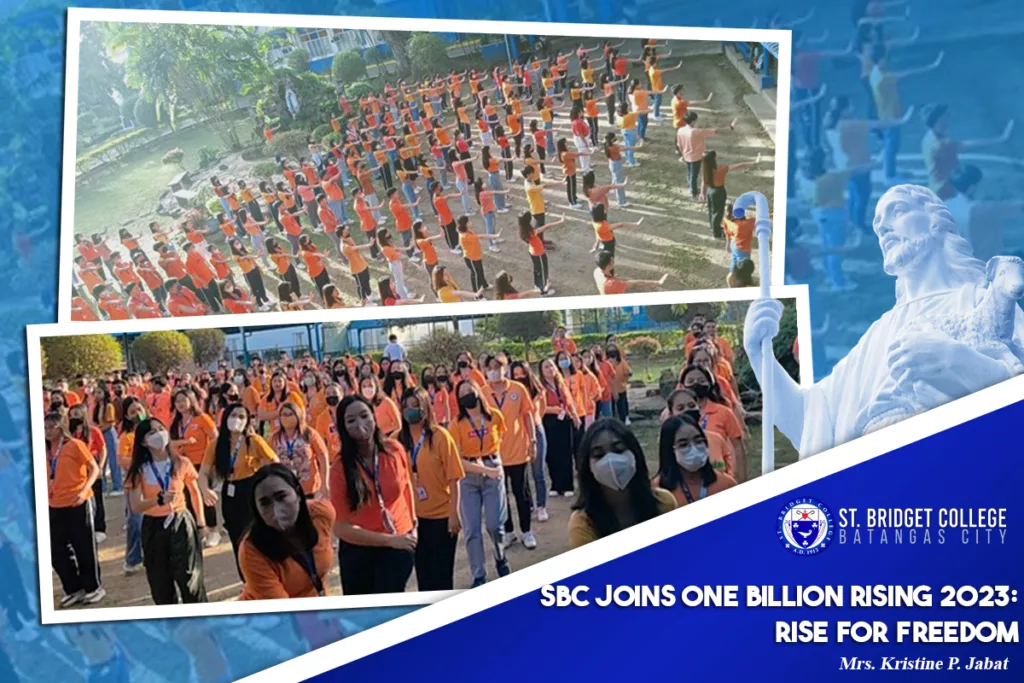 United with the World to End Violence against Women
Answering the call to action against violence against women, gender diverse person, girls and the planet, the whole community of St. Bridget College joined the world in striking, dancing, and rising to end violence against women and children, February 14.
The mob dance activity started with a liturgy, imploring God to fill the hearts of everyone with the fire of His Love and the desire to ensure justice is served to all brothers and sisters and secure equality for every human being.
After the prayer, 'One Billion Rising' was reintroduced, emphasizing that it is the biggest mass action to end violence against women in human history; and it began as a call to action based on the staggering statistic that 1 in 3 women on the planet would be beaten or raped during her lifetime. And with the world population at 8 billion, this adds up to more than one billion women and girls.
As the highlight of the activity, all Bridgetines, including the students, faculty, staff, maintenance and RGS sisters, danced "One Billion Rising – Revolution" and "1 Bilyong Babae, Babangon".
With the theme Rise for Freedom, this year's One Billion Rising aims to inspire and aspire everyone to free themselves from patriarchy and from all its progeny: capitalism, impunity, poverty, oppression, division, exploitation, shame, control, individualism, greed, and violence.
Through the activity, SBC has expressed its stand and unity to end violence against women. Moreover, SBC has taken the challenge of manifesting its firm commitment to end violence and uphold a community of care, concern, compassion, equality, solidarity, and appreciation for all.
One among the One Billion Rising for the world, SBC continues to raise consciousness and deepen understanding as it envisions and creates new ways to rise for freedom – to create a new culture where everyone works in solidarity to respect and honor women, children and the earth.
Source: Click here
Video Link: Click here
by: Mrs. Kristine P. Jabat