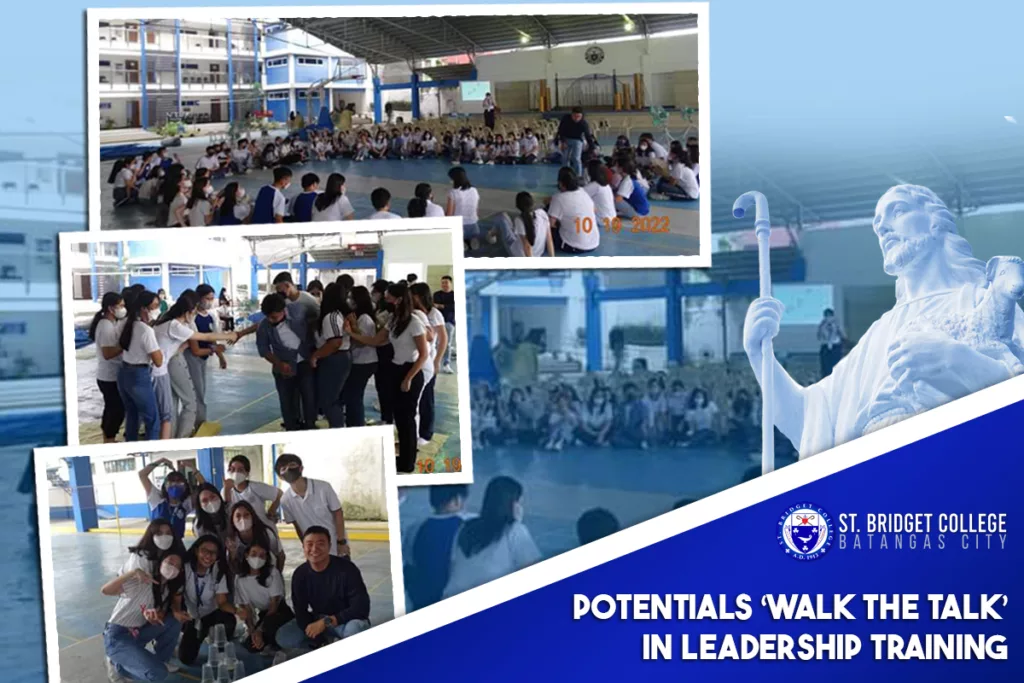 Student-leaders of the St. Bridget College Senior High Level secured the opportunity to walk their talks as they participate in the very first face-to-face Leadership Training in SBC-SHS last October 19 at the SBC Gymnasium.
After two years, leadership trainings were brought back for leaders to experience onsite school activities since the pandemic. With the theme "Walk the Talk: Bridgetines Shepherding by Example", Senior High Executive Envoy Panel (SHEEP) Officers, strand officers, class officers, and Moderators of the Senior High Level attended the session together with the resource speaker Atty. Sonny Jose Ricablanca.
Atty. Ricablanca, Bridgetine student leader alumna associated the talk with the presentation of different aspects of leadership in which he highlighted the different keys of how to be an effective leader. He then, linked the student leadership in different experiences as a student leader, and how important leadership skills are in different aspects ahead of time.
Bridgetines took a grasp of the knowledge about being an effective youth leader, as well as the principles and values in terms of leadership which are highlighted in the talk of Atty. Ricablanca in the session. Student-leaders were also challenged by the different activities that honed their leadership and cooperation skills, Those included Pass the Message Activity, Build A Pyramid Activity, Manila Paper Game, and Say Your Name. Participants of the said activities adapted the "think outside the box" value while thinking up of creative, convenient, and effective solutions within each challenge given in a particular period of time.
"As a leader, I have truly realized in this talk how important it is to listen. It speaks a lot on how leadership is not only about speaking and doing but also about taking into consideration the opinion and ideas of other people around us in order to be more effective. Being the
president of the student-council of the SHS Level, I'd surely apply what I have learned through Atty. Ricablanca so that my last year here in SBC would be spent on a leadership that is efficient and student-centered," Bismark John Marasigan, President of the SHEEP stated.

Theresa Jasmine G. Amo