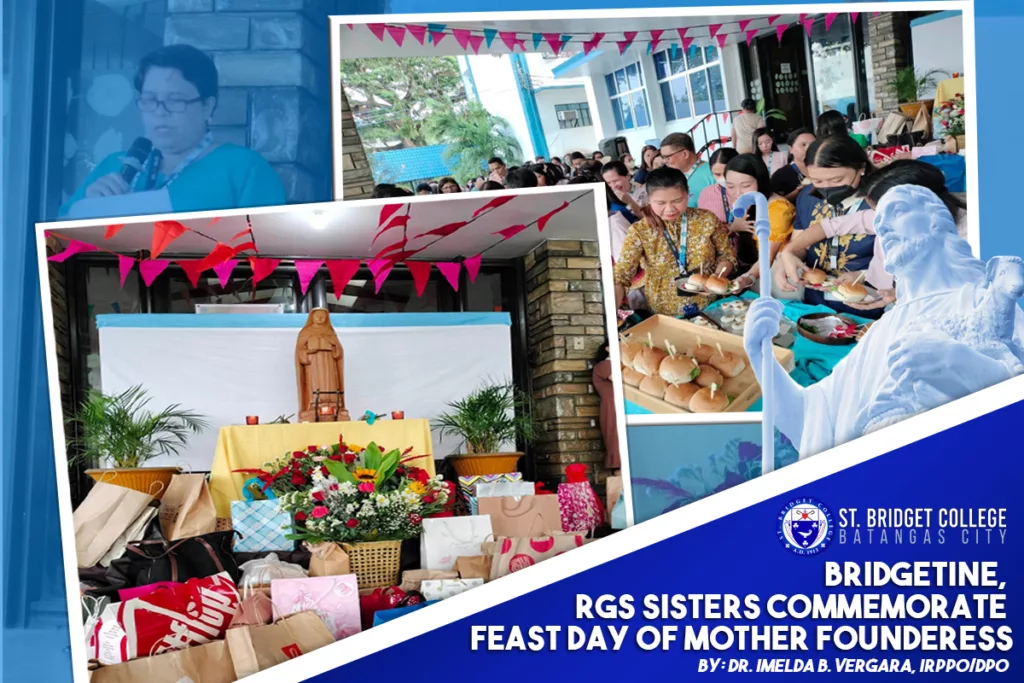 Ngiting pyesta para kay Sta Maria Euphrasia!
In a festive yet reflective atmosphere, St. Bridget College community celebrated the Feast Day of St. Mary Euphrasia, foundress of the Religious of the Good Shepherd, April 24, 2023 at the SME Driveway, St. Bridget College, Batangas City.
All SBC administrators, faculty, and staff, together with the RGS sisters, gathered for the afternoon activity which was highlighted with a Prayer Service at 3:00 PM.
In her introductory message, Sr. Ma. Añanita Borbon, RGS, college president, emphasized that the feast day of St. Mary Euphrasia is a very special occasion for the Good Shepherd congregation.
She also shared that her feast is commemorated with gratitude for the existence of the Religious of the Good Shepherd and St. Bridget College as well.
Aside from the reading on following the Good Shepherd, reflection session was also done in the said spiritual activity.
Mrs. Lea Abacan of Integrated Basic Education (IBED), Mrs. Shirlie Ayalin of Senior High School, Mrs. Marissa Agtay of College Department, and Mrs. Medy Andal of Institutional Programs and Services (IPS) shared their insights and reflections on the presence of St. Mary Euphrasia in their lives.
Each of them pointed out how St. Mary Euphrasia has inspired them to further strengthen their faith and trust in God.
Moreover, the session featured sharing of blessings wherein administrators, faculty, and staff brought items which they offered as donations to the girls and women in the Good Shepherd shelters.
The community also enjoyed the SME treats which included ice cream, buns, potato marbles, and other delicacies especially prepared for the occasion.
They also had the opportunity to bond with colleagues and friends and get their souvenir pictures in the photobooth which was set up for the event.
Meanwhile, students from the three departments also gathered for prayer service during the morning assembly.
In the said prayer offering, they reflected on their key takeaways from the readings on Rose Virginie Pelletier's encounter with God and on following the Good Shepherd.
St. Mary Euphrasia, who served as Mother General of the Sisters of the Good Shepherd for 33 years, is known for supporting girls and women experiencing poverty and marginalization.
She was beatified on April 30, 1933 and canonized as a saint by Pope Pius XII in 1940.
By: Dr. Imelda B. Vergara, IRPPO/DPO