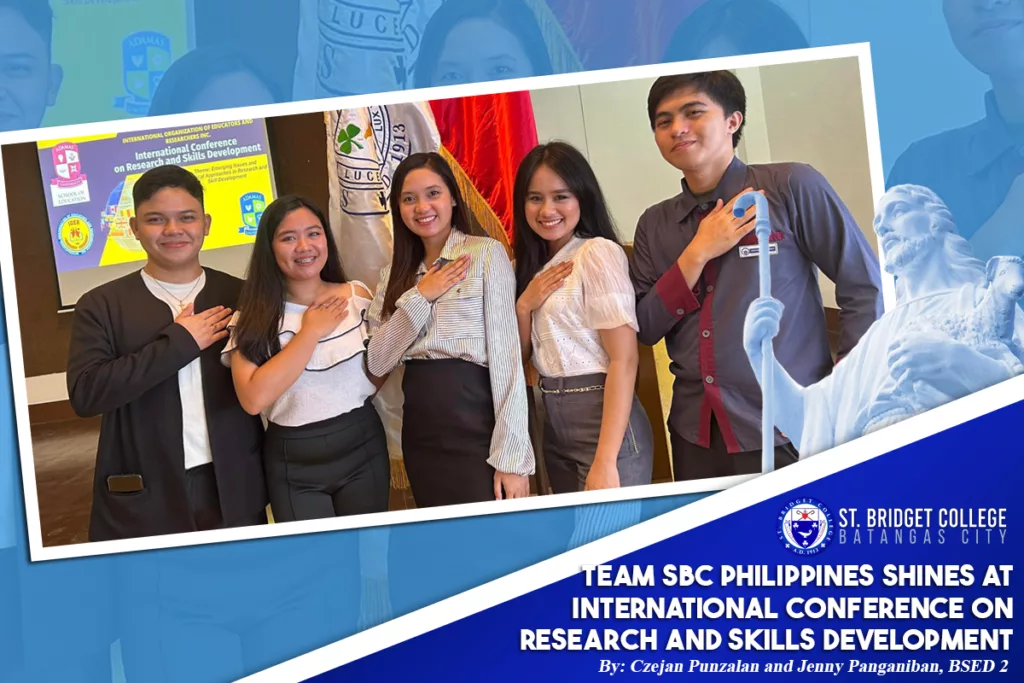 Five students from St. Bridget College, College Department, have emerged victorious, showcasing their exceptional research skills at the highly esteemed International Conference on Research and Skills Development (ICRSD) that was held virtually on May 4-5, 2023. With their groundbreaking works, the Bridgetine researchers not only represented their institution with pride but also left a lasting impression on the global stage.
Renz Gerard Agtay, BTLED4; Lea Clarice Dalangin, BSBA4; Jericho Macatangay, BSIT4; Jeanne Marie Odarbe, BSSW4; and Joanna Marie Vergara, BSED4, the brilliant minds behind the successful research projects, demonstrated their unwavering commitment to academic excellence. Their dedication and tireless efforts were met with resounding success as they received accolades and recognition in their respective fields.
Macatangay's presentation on "ISEP: Innovative School E-learning Platform with SMS Technology" caught the attention of the esteemed panel of judges and it earned him the coveted Best Abstract Award in Information Technology. This paper which is a collaboration with other BSIT4 students such as Nicole Baes, Lilibeth Banaag, Ronnel Bautista Jr., Leonard De Villa, and Giselle Manalo, highlighted the importance of incorporating SMS technology into e-learning platforms to improve the quality of education in remote areas.
Meanwhile, Odarbe's research on "Gender Equality in St. Bridget College: Basis for the Enhancement of Programs on Gender" resonated strongly with the conference attendees, resulted in her winning the Best Abstract in Gender, Equity, and Social Justice category. This paper which is also a collaboration with other BSSW4 students such as Bren Andal, Allysha Paula Marticio, Roselle Medorial, and Angelica Salavaria, aimed to promote gender equality and inclusivity in academic institutions by creating gender-sensitive policies and programs.
With the theme Emerging Issues and Practical Approaches in Research and Skills Development, the ICRSD, organized by the International Organization of Educators and Researchers, Inc. (IOER) in collaboration with India's Adamas University, provided a platform for scholars and researchers worldwide to present their innovative research findings.
The Team SBC expressed their gratitude for the opportunity to participate in the said conference and showcase their research projects. They also thanked the IOER and Adamas University for organizing the event and providing a platform for young researchers like them to share their ideas and innovations.
The said conference was also attended by Dr. Imelda B. Vergara, Head of the Institutional Research Planning and Publications Office (IRPPO), along with other faculty researchers namely Mr. Marvin T. Agusto and Mrs. Kristine P. Jabat.
With the achievement they have got, Dr. Vergara expressed her utmost pride and admiration for the achievements of Team SBC Philippines ICRSD. "I witnessed how you exerted effort in the preparation – from the ORCID registration, formatting of abstract, designing your presentation, to the midnight rehearsal and all. But, it's all worth it!" she proudly said.
As the students basked in their well-deserved success, Dr. Vergara encouraged them to continue their research journey, emphasizing the importance of cultivating a research-driven culture. The triumph of Team SBC Philippines not only reflects their personal achievements but also showcases the dedication and commitment of St. Bridget College to academic excellence and the pursuit of knowledge.
With their remarkable accomplishments at the ICRSD, the Bridgetine researchers have firmly established themselves as rising stars in the world of academia, leaving an indelible mark on the global research community. The school also hopes that their achievements will inspire other students to pursue their passions and make a positive impact in their respective fields.
By: Czejan Punzalan and Jenny Panganiban, BSED 2