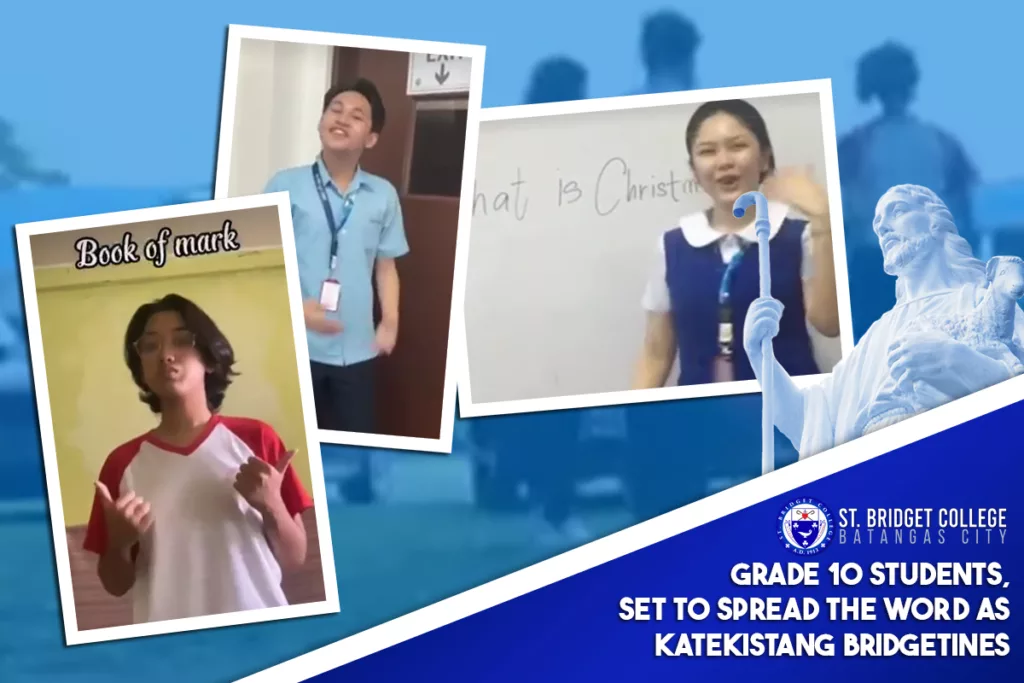 Grade 10 students, set to spread the Word as Katekistang Bridgetines
With the aim of recognizing the need to respond to the call of being witnesses of Christ, the CLVE Department proposed the activity "Katekistang Bridgetines" to all Grade 10 students where they utilize the social media platform, Tiktok, to showcase their intelligence and capabilities in spreading the Word of God.
The activity, Katekistang Bridgetines, was introduced to all Grade 10 by their CLVE teacher, Ms. Christine Balmaceda. According to her, "Katekistang Bridgetine is the social apostolate of all Grade 10 students. Through this activity,  all learners are expected to become proclaimers, believers, and witnesses of the Good News to meet an active role of conversion, healing, and works of compassion and justice.
In this endeavor, the students must produce a 2-minute Tiktok video to discuss the many Catholic teachings to meet the essential standards of the task. Each student took an online MI Assessment as part of the initial step of the activity.
Students in each class  were divided into pairs and triads based on their MI results in order to make the assignment more interesting and fun. Each section was given a value or topic to focus on namely Beatitudes, Sacraments, Scriptures, Filipino Catholic Traditions, Commandments, Saints for Service, Prayer, and Mariology.
"So this activity is done to embrace and maximize the good the use of Tiktok", Ma'am Balmaceda stressed. When asked about the effectivity and fulfillment of the activity, she convincingly said yes. According to her, the students' effort met the activity's main objective through their creative and original materials. She also stated that Bridgetines should be given more opportunities like this so they can grow as effective catechists who build faith and transform it to action rather than staying as passive Church goers.